Trying to fit home workouts into a new isolation lifestyle can feel like a lot of pressure, especially if there are one too many friends bragging about their new routines on Instagram, but you don't have to undertake crazy cardio or HIIT to keep fit. Online yoga classes have been helping me get exercise into my daily routine for years. Just throw down a mat (or a towel if you don't have one, just watch your knees), grab a pair of leggings and settle in for a session of calming exercise, where the challenge is what you make it.
Yoga is also the perfect form of exercise for these tumultuous times, as you can practice mindful breathing and meditation, helping to calm down an anxious mind.
How do you take care of your mental health during the Coronavirus pandemic?
There are also a lot of benefits to at-home practice, as Chatty Dobson, owner of FLEX Chelsea studio says: "Without a class full of other students you become a lot more focused on yourself; your own breath, how you feel. With no instructor physically in the room, there are no hands-on adjustments, so you have to rely upon yourself to become more aware of your body, your positioning, your alignment. Yoga is a mind-body connection, and now that the mind is free of additional distractions, it becomes much easier to focus on that connection."
Whether you're a complete beginner who's never tried yoga before and are thinking this might be a good time or are a seasoned yogi desperately missing your go-to yoga studio in London, you're in luck – there's absolutely an option for everyone, from luxe studios who are taking to free Instagram lives to showcase their skills to one-to-one trainers coming at you from across the globe with a personal routine, beginner's tutorial programs on YouTube to relaxing yin yoga with your favourite cult fitness brands.
A top tip? If you want to get your Instagram live on your Mac or laptop screen, so you can see those moves a little better, you'll need to download a free Google Chrome extension.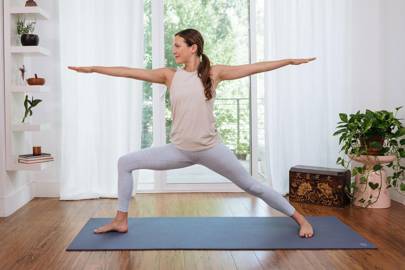 The O.G. online yoga sensation, Yoga With Adriene is the YouTube channel with a whole wealth of programs to get you started – whether you're brand new or are back to do 30 Days of Yoga for the umpteenth time. This Texan yogi will put a smile on your face and has a whole range of videos for different abilities, from learning individual postures to programs targeting specific muscles and areas, Adriene's your gal.
Cost: Free