Devotees practice social distancing on the first Friday of the holy month of Ramadan at the Putra Mosque in Putrajaya, Malaysia, on April 16.
Mohd Rasfan/AFP/Getty Images
In many parts of the Muslim world, the holy month of Ramadan began on Monday. For the second year in a row, practicing Muslims will observe the month during a pandemic — a reality that will, again, disrupt age-old communal traditions for many.
For Muslims, the daily Ramadan fast is broken at dusk, not just with a food and drink but with a gathering of friends, family and colleagues. It's also a time when financially able Muslims are encouraged to feed poorer families in their larger communities.
Once again, Muslim communities will try to come together while staying physically apart. It's a challenge that many devout Muslims, determined to observe all the tenets of this holy month, say they are up for.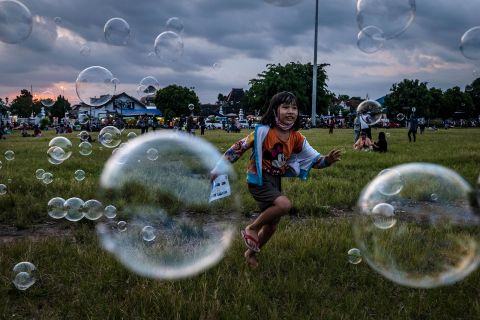 A child plays with soap bubbles as Muslims prepare to break their fast in Yogyakarta, Indonesia. Ulet Ifansasti/Getty Images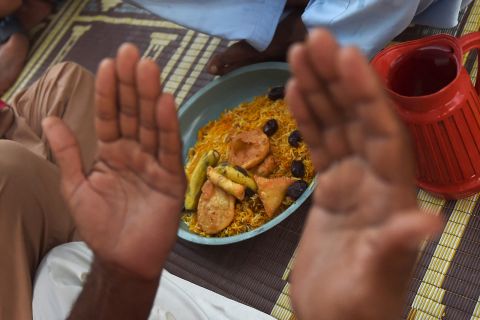 A Muslim devotee prays before breaking his fast in Karachi, Pakistan. Rizwan Tabassum/AFP/Getty Images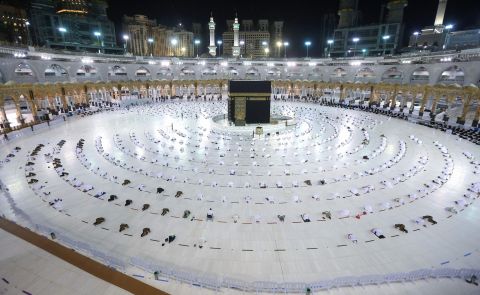 Muslims perform the evening "tarawih" prayer around the Kaaba in Mecca, Saudi Arabia, on April 13. Only people who've been vaccinated or recently recovered from Covid-19 will be allowed to perform prayers at the Grand Mosque. AFP/Getty Images
A man in Dubai, United Arab Emirates, prays at the Al Farooq Omar Bin Al Khattab Mosque on April 14. Francois Nel/Getty Images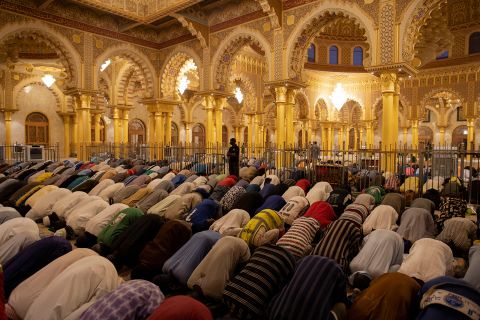 Muslims pray after breaking their fast at the Massalikul Jinaan mosque in Dakar, Senegal. Leo Correa/AP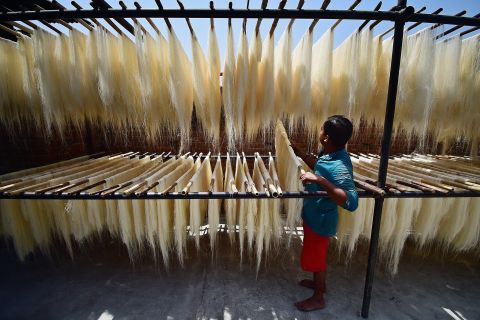 Workers in Allahabad, India, prepare vermicelli, which is used in a traditional sweet dish popularly consumed during Ramadan. Sanjay Kanojia/AFP/Getty Images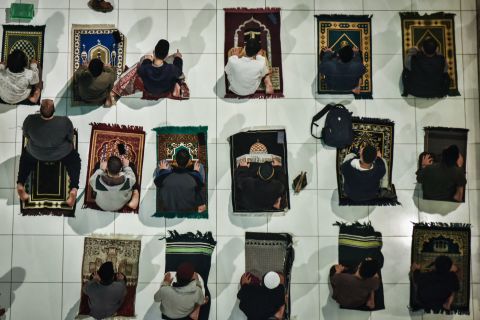 Muslims perform evening prayers at the Al-Azhar Mosque in Cairo. Sayed Hassan/Picture Alliance/Getty Images
Coal-mine workers pray at a pre-dawn meal in Zonguldak, Turkey. Gokhan Yilmaz/Anadolu Agency/Getty Images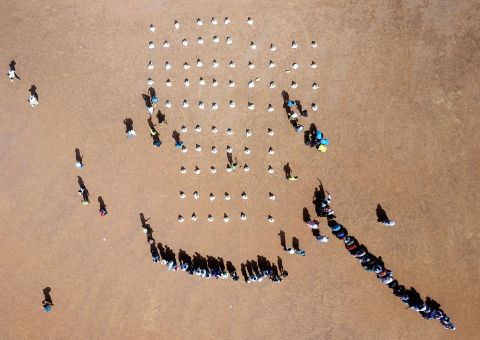 Muslims in Segou, Mali, receive aid packages from Turkey. Mehmet Kaman/Anadolu Agency/Getty Images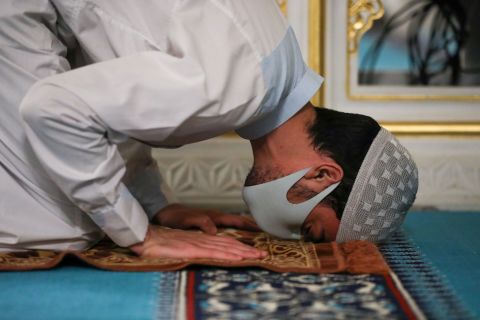 A man prays at the Diyanet Center of America in Washington, DC. Yasin Ozturk/Anadolu Agency/Getty Images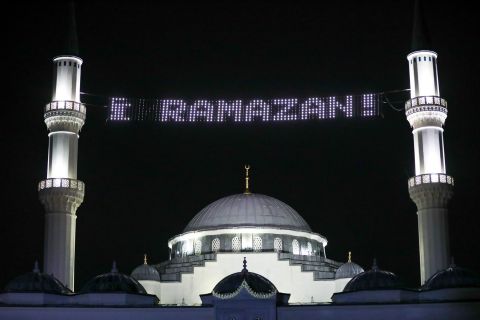 The Diyanet Center of America greets Muslims for the first prayer of this Ramadan. Yasin Ozturk/Anadolu Agency/Getty Images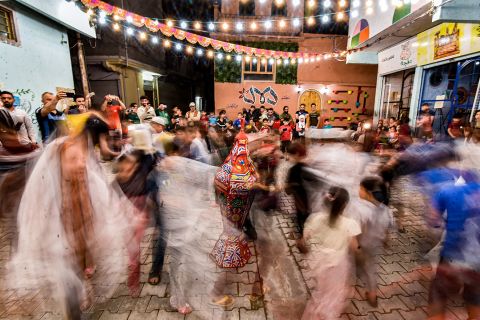 Children dance during a street celebration in Mosul, Iraq. This photo was taken with a long exposure. Zaid Al-Obeidi/AFP/Getty Images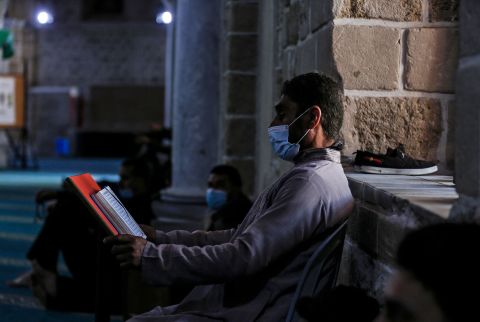 A man reads a copy of the Quran at the Omari Grand Mosque in Gaza City. Mahmud Hams/AFP/Getty Images
Muslims pray at a mosque in Lhokseumawe, Indonesia. Fachrul Reza/NurPhoto/Getty Images
People drive past a stall selling Ramadan lanterns in Shubra, a suburb of Cairo. Khaled Desouki/AFP/Getty Images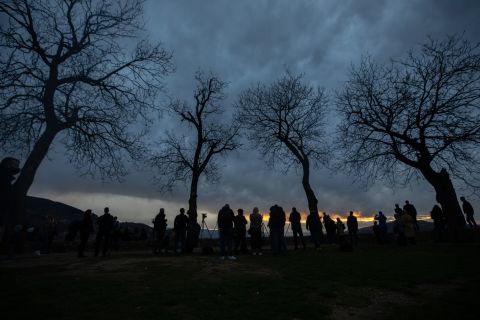 A cannon is fired in Sarajevo, Bosnia-Herzegovina, to mark the beginning of Ramadan. Elman Omic/Anadolu Agency/Getty Images
People spread out as they pray at a mosque in Zagreb, Croatia. Stipe Majic/Anadolu Agency/Getty Images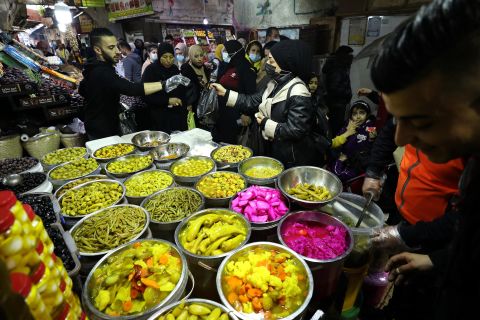 Ahead of Ramadan, a woman buys pickles at a market in Nablus, West Bank. Ayman Nobani/Xinhua/Getty Images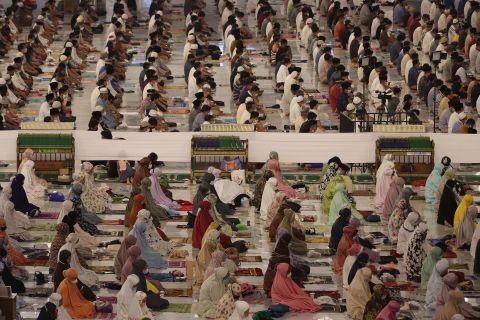 Muslims pray at the Al-Akbar Mosque in Surabaya, Indonesia. Suryanto/Anadolu Agency/Getty Images
Young Palestinians swing homemade sparklers in the Rafah refugee camp in Gaza. Mahmud Hams/AFP/Getty Images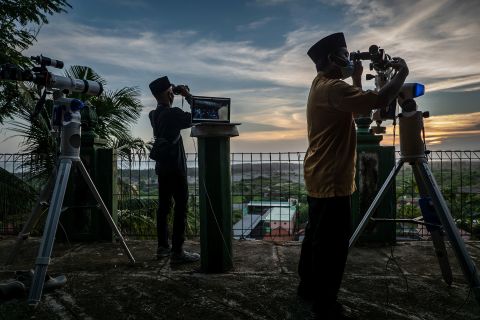 A man in Yogyakarta, Indonesia, prepares a telescope to observe the new moon that marks the start of Ramadan. Ulet Ifansasti/Getty Images
A Palestinian shopkeeper hangs a Ramadan lantern at her shop in the old city of Jerusalem. Ahmad Gharabli/AFP/Getty Images
Ramadan messages are illuminated above the Camlica Mosque in Istanbul. Islam Yakut/Anadolu Agency/Getty Images

Source Credit: edition.cnn.com